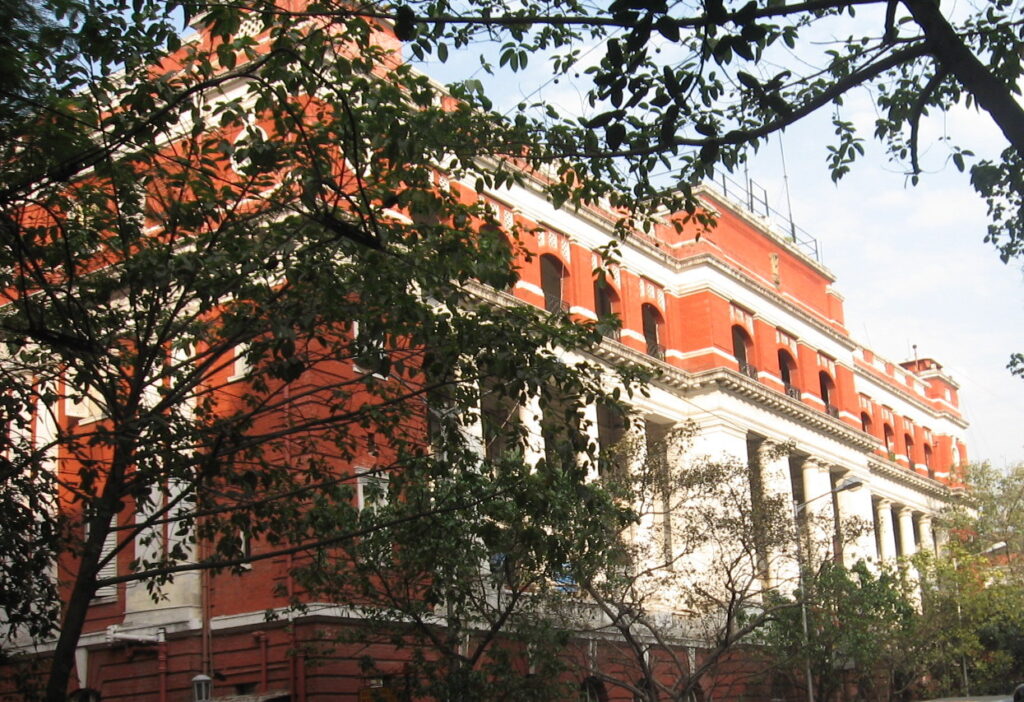 I'd had the idea of a disgraced Kolkata cop working in an Indian restaurant for over a decade but it took the Harvill Secker/Bloody Scotland competition for new crime writers for me to start typing. Much to my delight and amazement I won the competition and finished the book. It is the first of a series which shows Kamil, initially a fish out of water in London, slowly regaining his confidence in his detection skills till he becomes a cop in the Met Police, going back to doing what he loves and is great at – solving crimes.
The book is a fun mix of humour and mystery with some great recipes for Indian food thrown in and I hope you enjoy reading it as much as I loved writing it and I am honoured that it has been optioned by the BBC to potentially make it into a TV series.
So, what's the book about?
Kamil Rahman is a young detective in the Kolkata police force, working boring crimes and seeing a long, dull future ahead of him as he climbs the greasy pole. Then with one phone call – his fortune changes. He is put in charge of a high profile murder investigation – a Bollywood superstar has been found battered to death in his luxurious hotel room.
Excited by this chance to make his mark, Kamil soon finds out that things are not as straightforward as they seem. Why does the actor's wife seem unconcerned her husband was having sex before he died? Why has the hotel's CCTV stopped recording just before the crime? Why has the hotel manager's niece been kidnapped? As Kamil digs deeper, he finds his own life is in danger – he is beaten up and told to lay off the case and his boss advises him to do the same. But his integrity keeps him going until, after a shootout in a warehouse, he pushes a little too hard and is thrown out of the police force in disgrace.
Looking for a new start, Kamil moves to London where he gets a job as a waiter in a small restaurant in the East End. He starts to get close to Anjoli, the daughter of the owner and the wounds of Kolkata slowly begin to heal as he settles into his new role. But then he is abruptly confronted by another death. The host of a party he is catering – a millionaire Indian industrialist – is murdered in his swimming pool. Against his will, Kamil is asked to investigate and he and Anjoli start to ask questions. There is no dearth of suspects – the millionaire's new wife, thirty years younger, who stands to inherit everything. His jealous ex-wife and son. The Bollywood actress he was flirting with at the party.
As the case unfolds, Kamil discovers strange links to the murder he was working on in Kolkata. To his horror, he discovers he is being targeted again by the man who beat him up. Why has this stranger followed Kamil to London? Is Anjoli in danger as well? The murder races to a shocking denouement where Kamil and Anjoli have to decide between doing what is right and what is expedient.
************************************************
************************************************
************************************************
One of my favourite recipes is Madhur Jaffrey's Lamb Biryani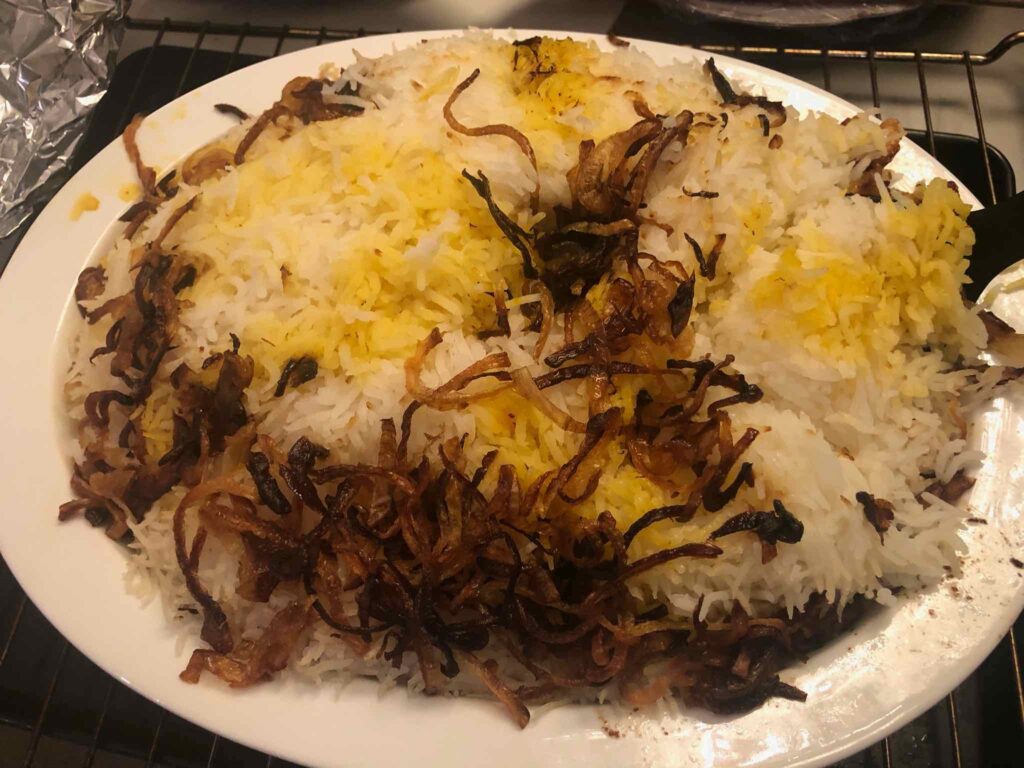 This delicious lamb biryani is a special dish taken from Madhur Jaffrey's TV series, Curry Nation. With powerful ingredients cassia leaves and green cardamom pods, this biryani is bursting with classic Indian flavours and is a great Saturday night takeaway alternative.
Ingredients
250ml olive or sunflower oil
2tbsp ghee
3 cassia leaves or bay leaves
5cm cassia bark or cinnamon stick
8–10 black peppercorns
7–8 cloves
1 black cardamom pod, lightly crushed
6–7 green cardamom pods, lightly crushed
1tsp crushed garlic
1tsp peeled, finely grated root ginger
450g boneless lamb, from shoulder or neck or both, cut into 2.5–4 cm pieces
3 medium onions, about 450g, chopped
500ml yogurt, lightly beaten until smooth
4 hot green chillies, cut into 1 cm segments
A handful of chopped coriander leaves
A pinch of salt
2 dried aloo Bukhara Persian prunes, if available (optional)
450g basmati rice
Generous pinch of ground saffron
1 capful kewda water
Method
Put the oil and ghee in a heavy-based 25 cm pan on a medium-high heat. When hot add the cassia leaves and bark, peppercorns, cloves, and both types of lightly crushed cardamom pods. Stir a few times, then add the garlic and ginger. Stir once or twice, then put in the meat. Stir and fry the meat for about five minutes, or until it is lightly browned. Now add the onions. Stir and cook, still over a medium-high heat, for about five minutes, or until the onions have softened.
Reduce the heat to low and stir in the yogurt. Add the green chillies, coriander leaves, 1 tsp of salt and the aloo Bukharas, if using. Keep stirring and bring to a vigorous simmer, reducing the heat to medium-low. Cover partially and cook, stirring now and then, for 25 mins.
Uncover, stir and cook for another 10–15 mins, or until the sauce is very thick and paste-like and the oil separates from the meat. Set aside, covered.
Meanwhile, preheat the oven to 150°C/300°F/Gas Mark 2. Rinse the rice in several changes of water, then leave to soak in ample fresh water for 15–20 mins. Drain and leave in the strainer.
Bring about 5 litres of water to a boil in a large pot, the kind you use for boiling pasta. When it is boiling rapidly, add 4 tsps of salt and stir. Set a colander in the sink.
Add the rice to the boiling water. Stir to separate the grains, cover partially and return to a boil. Boil the rice for five to six minutes, or until a grain, when pressed hard between the fingers, has only a thin hard core at the centre and breaks into two or three pieces. Drain quickly and leave in the colander.
Tilt the pot of meat and spoon out all the fat and oil into a small bowl. Pour half of this oil into a heavy-based 25 cm ovenproof pan that has a tight-fitting lid, and spread it out. Now spread half the rice over the oil.
Spoon all the meat over the rice. Sprinkle the saffron over the meat. Spread the remaining rice over the meat and then the remaining oil over the top of everything. End with the kewda water, sprinkling it over the top.
Cover tightly with foil and then the lid and place in the centre of the hot oven for 30–40 mins, or until the rice is cooked through. Mix very gently with a slotted spoon before serving.
************************************************